Enter Now
The weekend of racing starts on Saturday 23rd and Sunday 24th April 2016.

Online Entry is now
open - be part of
RunBalmoral 2016!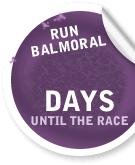 Chairman's Message
2016...another great year in prospect.
I'd like to wish everyone a happy, healthy and prosperous New Year. And, if you are taking part in one of our races in April, I hope your training is going well and that you recover quickly from any excessive -indulgence over the festive period.
Our races are filling up quickly, so if you haven't already entered, please do so as quickly as possible to avoid disappointment.
We will, as usual, be providing updates about the 2016 RunBalmoral event on our facebook pages, so do check these on a regular basis.
James Knowles
Chairman, Balmoral Road Races Ltd, January 2016