Enter Now
The weekend of racing starts on Saturday 22nd and Sunday 23rd April 2017.
We hope you have a
fantastic experience at
the 20th Anniversary Run Balmoral
races.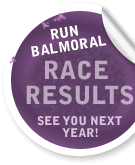 Chairman's Message

We are delighted to announce that RunBalmoral 2017 will be held over the weekend of Saturday 22nd and Sunday 23rd April.
Entries will open on the 25th October for the programme of eight races catering for all age groups.
This will be the 20th year of the event and we will once again look forward to welcoming more than 5,000 entrants and as many spectators to the estate.
Put it in your diary now!
James Knowles
Chairman, Balmoral Road Races Ltd, May 2016